'motiongraphics'에 해당되는 글 5건
**walking man - expression tutorial
http://www.creativecow.net/show.php?page=/articles/ebberts_dan/audio_sync/../layer_looping/index.html
**Dan Ebbert's website
http://www.motionscript.com/expressions-lab-ae65/confetti.html
**Vectors and arrays Expression
http://www.jjgifford.com/expressions/basics/vectors.html
**audio syncronization
http://forums.creativecow.net/cgi-bin/page_wrapper.cgi?forumid=227&page=http://www.creativecow.net/articles/ebberts_dan/audio_sync/index.html
**using script file for auto-marking audio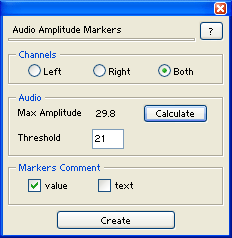 1.copy the script to the script folder under the program > adobe > aftereffect > in your computer.
2. open after effects, then apply the script selecting
File / RunScript / Choose File /... / audioAmpMarkers.jsx
3. bring the audio file to the timeline window, and create data choosing
animation / keyframe assistant / Convert Audio Keyframes
4. change the options as you like, (picture above) and clike create.
**trapcode plug in (have a look whether they are useful for you or not )
http://www.trapcode.com/
update more links soon.
any questions about YOUR work, click comments down here or use guestbook.
(after write something in blank white box and click right button which you can see
submit if you rollover it )